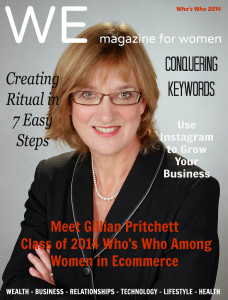 Gillian Pritchett recently had the honour of being named one of the top 100 women in e-commerce by WE Magazine.
Read more on page 60.
From Karen Scott-Boyd – Mindfulness Coach
Whether yours is a start-up business or you're redefining your business strategy, Gillian Pritchett is the 'go to' person for a balance of creative and strategic marketing wisdom. When I met with Gillian, I was clear about my direction and what I wanted to achieve but selling myself to my target market was a daunting challenge. Within a week of our conversation, Gillian had produced an effective professional bio as well as press release enabling me to reach the people in search of my services. As a result of my dealings with Gillian, I have more clarity and confidence about achieving my business goals.