If you are using a WordPress website then I can't recommend too strongly the The
sis theme. This website uses the Thesis theme as do almost all of my websites. They can be customised with a choice of columns and you can put whatever header you have designed.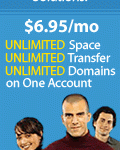 I recommend Bluehost for hosting and especially if you have WordPress websites. Bluehost enalbe you to host more than one websute. They also provide awesome customer service.
DOMAIN NAMES
I have a lot of domain names and I've bought them all from GO DADDY.  Occasionally I've had a question and these have always been dealt with promptly and courteously.
SHOPPING CART
  If you're selling products or services on line then you need a shopping cart. You can also use your shopping cart to send out email blasts and your newsletters. There are other providers but I prefer to have an integrated system rather than using two different companies. It also makes it so much easier to manage your lists. I use Marketers Choice which is exactly the same as 1 Shopping Cart.
| | |
| --- | --- |
| | Personal Growth from SelfGrowth.com |
| | SelfGrowth.com is the most complete guide to information about Self -Improvement, Personal Growth and Self Help on the Internet. It is designed to be an organized directory, with articles and references to thousands of other Web Sites on the World Wide Web. |