As many of you know I take care of my very frail and elderly mum. From time to time I teach on various MBA programmes and I work virtually with selected clients who need help starting or growing their business. I certainly had no plans whatsoever to get into a retail situation but… this last Summer I started a new little business – Gillia's Tables.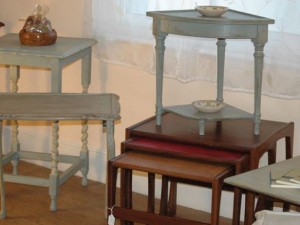 How did this come about?
I had an idea to buy and sell little wooden tables – buy them at a low cost at a recycling or charity store and then sell them for a bit more on Ebay.
One thing lead to another and I decided to paint them using Annie Sloan chalk paints and wax. From there I got into creating designs on the top using paint or burning a pattern into the wood.
I now have 40 little tables of which 20 have been painted in some way.   I then started to sell them in a small vintage store where I rented some space and in another store on a sale or return basis.
Here's some of the business lessons I've learned so far:
Test the market – it's all very well assuming that everyone needs a little table but they may not like your little tables or they might not be willing to pay your prices. Renting space in an appropriately located store (both in terms of the town and whereabouts in the town) or even better – a sale or return basis – enables you to test the market. You can discover what people like and don't like and what they're prepared to pay. The key phrase here is an appropriately located store which leads on to the next lesson.
Location – the shop where I rented space was in a small town. The owner had had a shop in a seaside town nearby and I assumed that she had done her homework before she opened up in Ottery St Mary. I guess she hadn't as I got an email before Christmas to say she was closing down – after only 8 months of trading. And I sold nothing in the 6 weeks I rented space.  Location is also important in terms of where your stock is located in the store. Mine was upstairs but it wasn't obvious for anyone looking in the window that the shop sold little tables and once inside there was no indication what stock was available upstairs.  In the other shop my tables were used to display other items that were for sale – not conducive to showcasing my tables.  This leads to the next lesson – don't assume.
Don't make assumptions – I assumed the owner of the shop where I rented space had done her homework. I assumed she would be open 6 days a week from 9am – 5pm but she often opened later and closed early. I assumed she was serious about making the shop a success and not about to go back to corporate.
Pricing – Price to the market rather than adding a percentage on to what you paid for the item unless you can consistently buy at the same price. When you're rejuventing furniture the purchase price can be very variable depending on where you buy so this means that you have variable margins if you add a percentage. It's much better to price to the market. However this means that you need to be careful not to pay more than you need to for items. 
Sourcing – I only bought in recycle and charity shops and from local sellers on Ebay. I learned that going to house clearance auctions and car boot sales would be a better way to get stock at a good price. Leaving aside the fact that my personal circumstances didn't enable me to do this auctions and car boot sales are time consuming. The lessons here are – know the best places to source; don't pick a product that could eat up a lot of time sourcing.
If you rent space ensure you have a written agreement and that it adequately protects you and your items (see blog post – Renting space in someone's store).
If you do a sale or return have the owner of the shop sign for the items they are holding. Also agree whether it is at your  risk or if they take responsibility for damage, loss etc. An agreement is a good idea but a lot of shop owners will only sign to agree what they are holding.
Even if you're in someone else's shop still do your marketing – on Facebook, even advertising in appropriate local magazines.
Sell first – buy more later. I got carried away. I admit it ! Every time I saw a nice little wooden table at a decent price I bought it so now I have 40 little tables. I should have had a base stock, painted half of them and only bought more when I'd sold some.
Don't think big too soon. I admit I flirted with the idea of having my own shop I was getting such a kick out of sourcing and rejuvenating little tables. There's a great outlet in my home town and one in Sidmouth. Fortunately I've worked with  business start-ups for a good number of years and I'm an accountant by profession so I ran the numbers.  Yes it would be fun have a shop and be able to have all my lovely tables in one place and be the go to gal for anyone wanting a little table but you could take a long time to break even. Do sale or return, or rent space or do market stalls first.